by Harry Pettit, February 2, 2020 in TheSun
---
Earth is bracing for a solar minimum: a quiet period in which the Sun fires less energy – or, heat – at our planet than usual.

According to Nasa, the Sun will reach its lowest activity in over 200 years in 2020.

This could cause average temperatures to drop as much as 1C in a cold spell lasting 12 months, according to Northumbria University expert Valentina Zharkova.

That might not sound like much, but a whole degree is very significant for global average temperatures.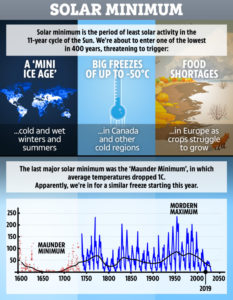 …
…
However, Professor Zharkova warned icy spells and wet summers could persist until solar activity picks up again in 2053.

She listed recent unusual chills in Canada and Iceland as evidence of the Grand Solar Minimum (GSM) already taking hold.

"The reduction in temperature will results in cold weathers on Earth, wet and cold summers, cold and wet winters," she told The Sun.

"We will possibly get big frosts as is happening now in Canada where they see [temperatures] of -50C.