by P. Homewood, Jan 6, 2021 in NotaLotofPeopleKnowThat
---
When Donald Trump offered to buy Greenland from Denmark in 2019 it was dismissed as illegal and absurd. However, the president's expression of interest was far from absurd, says Guillaume Pitron. Under its soil Greenland boasts one of the largest concentrations of the rare metals that the world will need to power electric cars, computers, mobile phones, robots, solar power plants, artificial intelligence and many high-tech "green" innovations that have not been dreamt up yet. If Trump were after those minerals, buying Greenland would have been a smart move.

The global production and sales of rare metals are dominated by China. It mines so much of them on home soil and controls so much of their extraction in Africa and elsewhere that it oversees up to 95 per cent of the global production of certain minerals. This puts Beijing in charge of "the oil of the 21st century", writes Pitron, which is a problem for western nations because it means China can restrict supply and drive prices up or down at will, as Opec does with oil. We have "entrusted a precious monopoly of mineral sovereignty to potential rivals", he notes.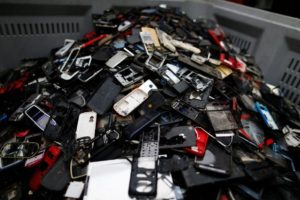 Discarded devices waiting to have their precious metals extracted

CHARLY TRIBALLEAU/GETTY IMAGES

Rare earth minerals production is very energy intensive. Extracting a single kilogram of some requires mining as much as 1,200 tonnes of rock. "Clean energy is a dirty affair," Pitron writes. He drives home his point by touring villages near polluted lakes in China that are known locally as "cancer villages".
…